For our newest spotlight, meet Christine! She's part of our Cybersecurity Sales Team and doing amazing things (Spoiler: she's getting her bachelor's in Cybersecurity Administration!). To loop you in on all the details, she kindly answered a few questions so you can get to know her!
A brief overview of your job.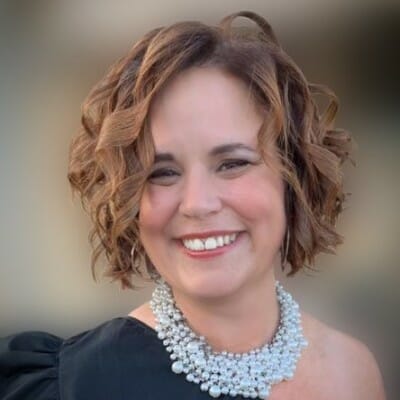 I am an Account Executive in Enterprise Cybersecurity Sales here at Brite. My three-year anniversary was celebrated in May! I enjoy being a trusted advisor to my clients, sharing best practices and new technology, all while expanding my own knowledge as it pertains to cybersecurity.
What is your favorite part about being at Brite?
My favorite part of being a Brite employee is the constant learning that takes place here. As cyber professionals we need to keep pace with evolving technology in the expectation that we can assist our customers in fending off bad actors and those who would mean to do harm. At Brite we have regular training on the solutions that are part of our portfolio. We are also encouraged to do our own research and attend webinars to keep up with current trends. This has served me well in my personal life, as I began pursuing my bachelor's degree in Cybersecurity at Norwich University, but just recently transferred to Syracuse University to complete my bachelor's in Cybersecurity Administration. I thoroughly enjoy learning the technical side of cybersecurity as well as having the ability to talk intelligently about technology with the teams I work with.
What 3 words would you use to describe your job?
Competitive, challenging, rewarding.
What kinds of security risks are you seeing?
The biggest security risk I have seen with my clients is around phishing attacks. Free Amazon gift cards always look appealing, but often are a ruse to gain access to an environment. Amidst the COVID epidemic, remote worker endpoint security has become a definite concern. Suddenly, perimeter defense was gone, which is a critical aspect of a multi-layered cyber strategy. The other concern that comes up often is the visibility and the ability to control IoT and BYOD devices. As is said so often, you cannot control what you cannot see, and the rise in IoT and BYOD devices has become a real challenge for security teams.
If you could switch your job with anyone else within Brite, whose job would you want?
I honestly do not think I would want to change with anyone. I love what I do and know that I am in the right place doing what I am meant to be doing. If I had to choose, I would say Kelly Woods, who is our Professional Services Manager. I love project management and being on the technical side of the house working with engineers and security teams would be exciting and challenging.
What does your typical workday look like?
Is there such a thing as a typical day?? Pre-COVID, I drove to Buffalo a few days a week to work with my teams strategizing, road mapping and attending regular cadence sessions. Today, my days are spent on endless virtual meetings, phone calls, emails, and text messages. I sincerely miss the people I work with and cannot wait for this to settle down to the point that we have some level of normalcy back in our day to day lives. Until then, my iPhone and AirPods will continue to get a workout!
Huge thanks to Christine for taking the time to answer the questions! Who do you want to hear from in our next Brite Spotlight?